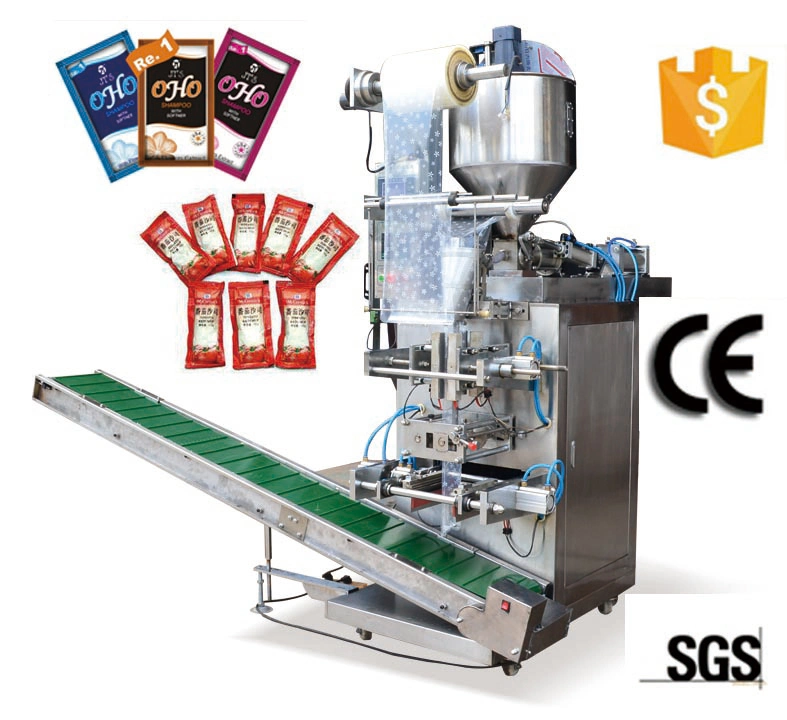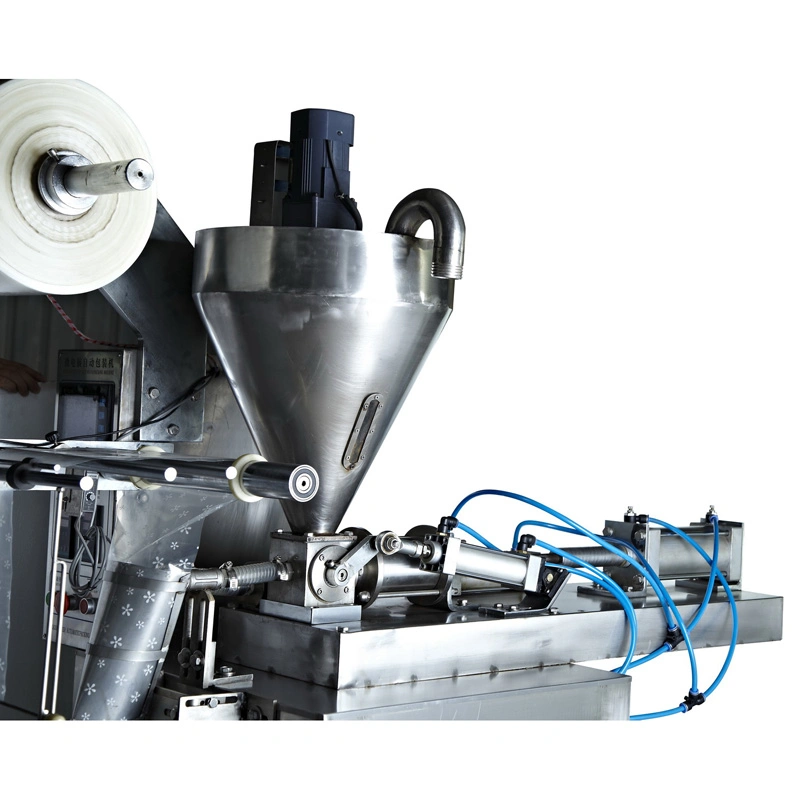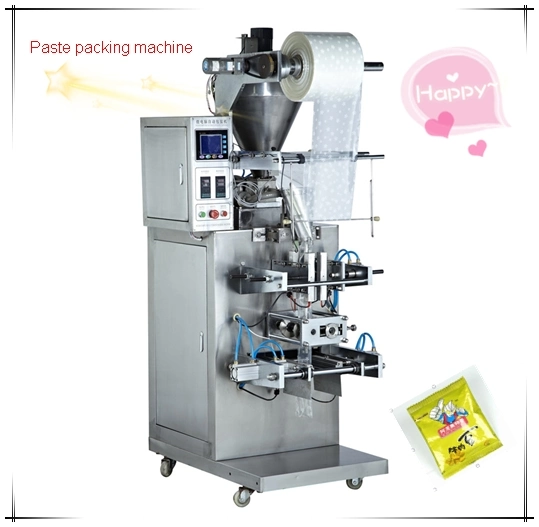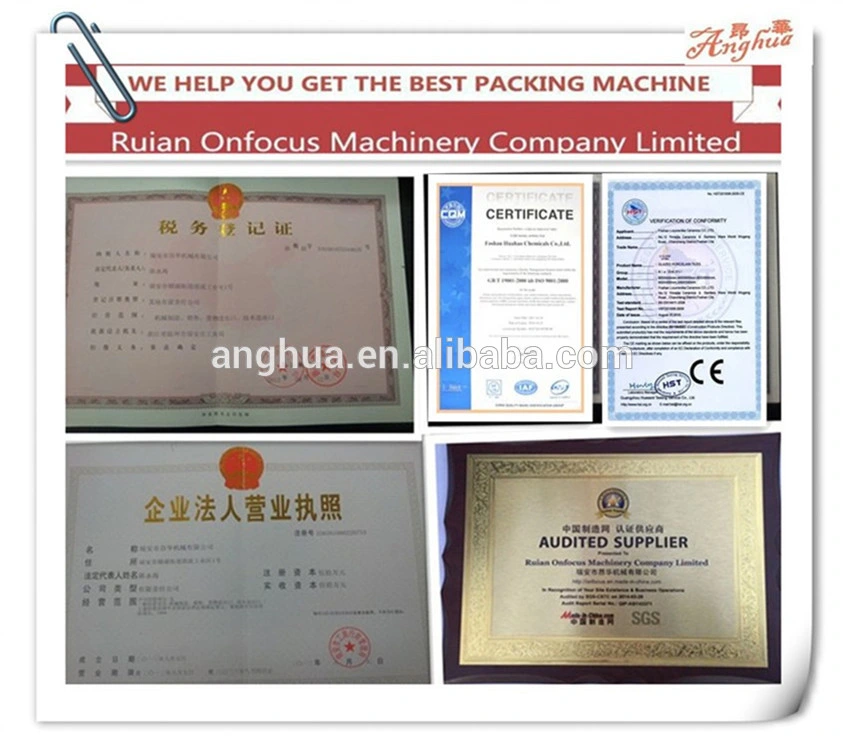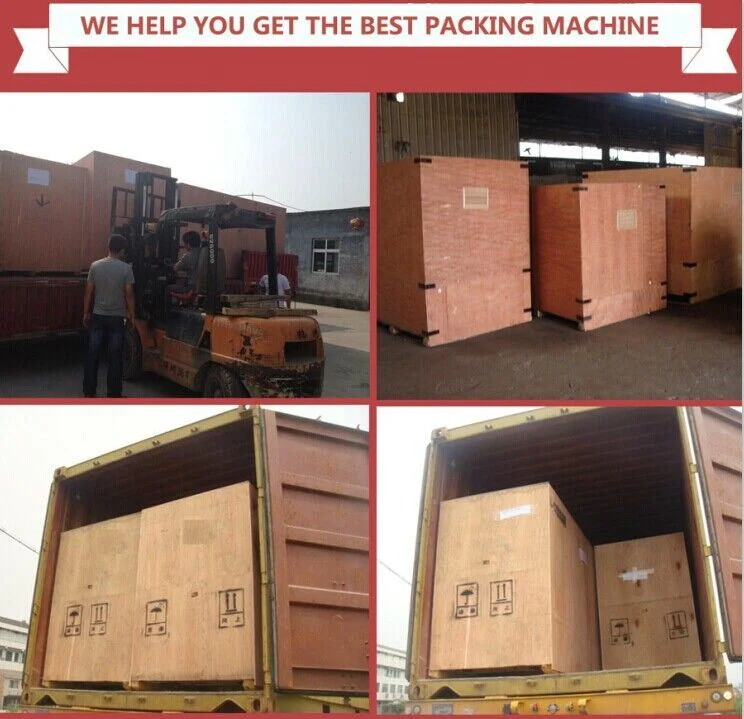 Features:
Back sealing, three-side sealing, four-side sealing packing method.
The packing data and adjustment can be displayed on the screen.
The user can directly operate it on it.
Assembled with a photoelectric controller to ensure that its packing bag figure are perfect.
It can automatically finish making-bag, metering, filling, sealing, cutting, counting and printing batch number.
The body and the parts touching the material are made of stainless steel.
Suitable Material:
It is applicable for packing the semi-fluid like hairdressing water, hair conditioner, lotion, soy sauce, cough syrup, agricultural chemicals, wine, sauce, cheese, peanut butter, ketchup, bean paste and chilli sauce etc.
The machine needs an air compressor to promote it to work better.
Particulars:
² It has pneumatic transmission system with a reliable operation being ensured. A computer with an easy operation and adjustment being provided controls it, the performance is stable, and the quality is reliable.
² Staples adjusting of the packaging speed.
² Adopting proper bag length controlling technology, the bag length can be adjustable stepless, precise length, convenient adjustment.
² Solving the problems of draw bench and drip to ensure the tight sealing, improving the quality of the packages.
² Intelligent temperature controller, constant sealing temperature ensures the sealing quality.
² Realizing three side sealing, four side sealing and making flatness bags and bags without changing parts.
² Safe and credible photoelectric detecting, giving complete trademark pattern.
² Filling rang is step less adjustable within the certain scope.
² Lot number being automatically printed on the bag, and can leave a little gap for tearing and convenient use.
² The machine is made of stainless steel sanitation with good appearance, suitable to food, medicine and chemical industry.
² Thanks for your choice to our machine; Your satisfaction is our permanent aim. We are not the best, but trying to be the best. Please read this instruction before using.
model
ah-blt100
ah-blt300
ah-blt500
function
semi-fluid packing
semi-fluid packing
semi-fluid packing
packing speed
30-60bags/min
20-40bags/min
15-30bags/min
packing capacity
5-100ml
50-1000ml
200-2000ml
power
1.6kw
1.6kw
1.6kw
size of bag(l)
50-150mm
50-300mm
80-300mm
size of bag(w)
25-120mm
70-190mm
90-190mm
packing film width
60-240mm
160-380mm
200-380mm
dimension
760*1380*1700mm
900*1800*2040mm
900*2000*2040mm
air power
0.65Mpa
0.65Mpa
0.65Mpa
air consumption
150Mpa
180Mpa
200Mpa
weight
300kg
480kg
650kg
payment term
t/t, l/c at sight
t/t, l/c at sight
t/t, l/c at sight