manual bottle filling machine for shampoo cream gel,lotion / vertical type pneumatic filling machine for food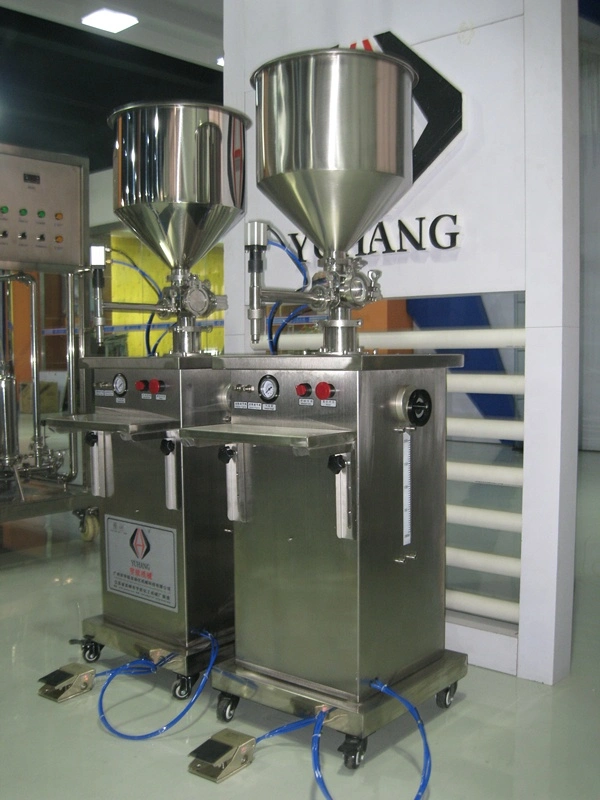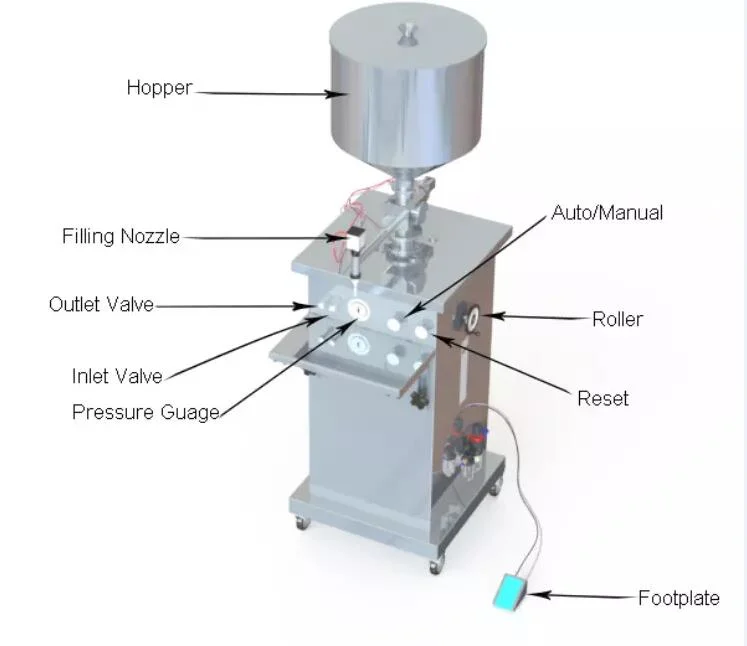 Product Description:
This machine is widely used gel product or heavy cream like hand sanitizer, hand washing, shampoo, cosmetic cream and so on. We offer a one-year warranty and lifetime maintenance. It is suitable for the liquid filling, New horizontal design, lightweight convenience, easy to operate.
Work principle:
1. Through the movement of the cylinder of forward and backward to make the piston which is located in the cylinder do reciprocating movement, so as to engender the negative pressure in the preceding chest of the cylinder
2. The piston is pulled backward when the cylinder make forward movement, the material cylinder occurred negative pressure, the materials in the barrel are pressed into the feeding pipe by pressure and go into the material pipe through unidirectional valve of feeding and discharging materials.
3. The piston is driven forward when the cylinder make backward movement, the materials are pressed and go into discharging pipe through unidirectional valve of discharging materials, enventually filled into the empty bottle which need to be filled, then one time filling finished.
4. It is a single and simple action to each time of filling for the piston filling machine, so it has very high filling precision and stability to every regular container.
Main Features:
1, This machine adopts imported machine parts/piston and cylinder wich made of stainless steel and polytetrafluroethylene, perfect qualified imported components and excellent mechanical design ensure its leading position among demestic similar machines.
2, The new vertical design, light and easy.
3, Switch function between manual and automatic, when machine is under automatic condition, machine fills continuously automatically with set speed, when machine is under manual condition, operator steps on footplate to realize filling. If stepping on footboard all the time, it will change to automatic continous filling condition. Cylinder and three-way part adopt cuff connection which is easy to remove. It doesn't need any special tools so it is easy to clean.
Technical Parameter:
| | | | | |
| --- | --- | --- | --- | --- |
| Model | YHGZJ-60 | YHGZJ-125 | YHGZJ-250 | YHGZJ-500 |
| Filling Volume Range | 5--60ml | 10-125ml | 25-250ml | 50-500ml |
| Filling Speed | 4-30b/min | 30ml | 30ml | 30ml |
| Hoper | 30ml | 30ml | 30ml | 50ml |
| Air Pressure | 4-6kg/m² | 4-6kg/m² | 5-8kg/m² | 5-8kg/m² |
| Filling Precision | ±1% | ±1% | ±1% | ±1% |
Company Information: