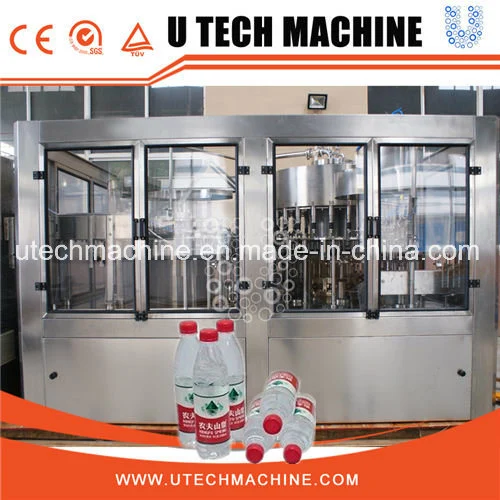 PRODUCT DESCRIPTION:
U Tech Automatic Bottle Filling Machine
CGF Series 3in1 unit water filling machine is mainly used for filling none-carbonated beverage such as mineral water, pure water,wine,alcohol,fruit juice.
The machine is most applied for plastic PET bottle, it can be easily adjusted to fill various shape and volume of bottles,
The machine combines washing unit, filling unit, capping unit in one machine, it can fulfill the washing, filling capping automatically,
Bottles are fed into the washing machine in order by conveyor, then the bottles are turned over and washed inside by the nozzles.
After dripping in line, bottles will be fed to the filling machine automatically to fill liquid with high speed and fixed quantity.
After that, the filled bottles will be capped by the automatic capping machine and then be transported to the labeling and packing process,
The machine adopt normal pressure filling, the filling operation is faster and liquid level is precise and accurate,
The machine use advanced technology and design from Italy and Germany.
The appearance is beautiful and design of
machine is scientific, its operation and maintenance is convenient, with high automation.
TECHNICAL PARAMETER:
U Tech Automatic Bottle Filling Machine
Model
CGF8-8-3
CGF14-12-5
CGF16-16-5
CGF24-24-6
CGF32-32-8
CGF40-40-10
Capacity(500ML)
2000BPH
5000BPH
8000BPH
12000BPH
15000BPH
18000BPH
Washing Heads
8
14
16
24
32
40
Filling Heads
8
12
16
24
32
40
Capping Heads
3
5
5
6
8
10
Suitable Bottle
PET Bottle ,Plastic Bottle
Diameter of bottle
Diameter: 55-110 MM
Height Of Bottle
150-310MM
Suitable Cap
Plastic Screw Cap
Weight
1500kg
2000kg
4000kg
4500kg
6000kg
7800kg
Main Motor Power
1.2kw
1.5kw
3kw
3kw
3kw
5.5kw
THE FLOW CHART:
U Tech Automatic Bottle Filling Machine
1) Water Treatment System
Source water tank →Source water pump→ Quartz sand filter→ Active carbon filter→ Ion soften machine→ Fine filter →Reverse Osmosis → Ozone sterilizer → pure water tank
(Description: The processing flow adopted by a set of Pure Drinking Water Treatment System depends on quality of water source and target purpose of water usage. The selected flow basically includes three parts: pretreatment system, micro processing system and terminal processing system. The Pretreatment system includes multi-media filter, active carbon filter, softener, iron-manganese removal filter, ultra-filter, micro-filter, etc. The micro processing system adopts membrane filtration and ion exchange method. The terminal processing system involves in ozone/UV sterilization, iron exchange etc.)
2) Small Bottle Filling & packing system
Pure water tank
↓
Bottle blower→Air conveyor →Washing, filling & capping three-in-one→ Light check→ Full-automatic labeling machine→Ink jet machine →Full automatic PE film packing machine→ warehouse
( Description: Spring cramps are used in the bottle washing process. The empty bottles can be turned over 180~ along the conveying rail. There is once time of internal and external washing, the efficiency of bottle washing is high.
The magnetic torque is used for screw capping. The power of screw capping can be adjusted without steps. The power of the screw capping can also be fixed, and the caps will not be damaged, the capping is reliable.)
Bottle Washer:
U Tech Automatic Bottle Filling Machine
1.Bottle runing into washing section by delivery rotary starwheels from bottle air conveyor.
2.The machine applies unique overturning bottle clamp, which is an innovation of our Blissum factory. This bottle clamp grips bottle at neck position, avoiding bottle mouth thread contamination caused by rubber gripper block of a traditional bottle clamp. Made of SUS304 stainless steel, this bottle clamp is hygienic and durable.
3.The high efficiency atomizing spay nozzle installed on bottle clamp is capable of cleaning any part of bottle innerwall,and also saves rinsing water.
4.The rinser is driven by driving system positioned inside machine frame via gear transmission.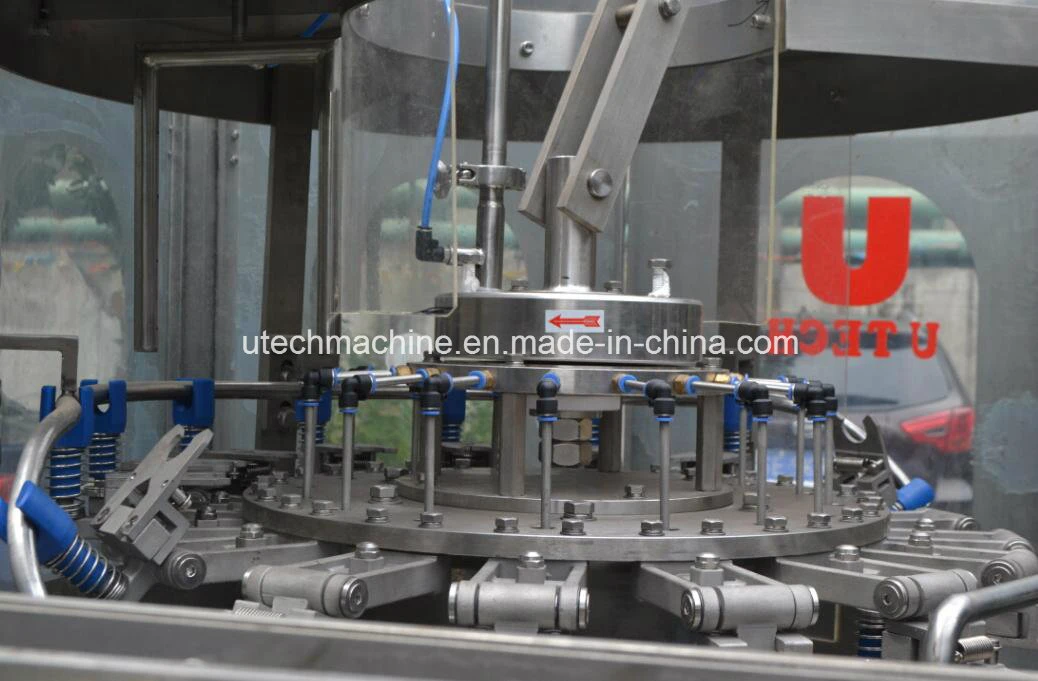 Bottle Filler:
U Tech Automatic Bottle Filling Machine
1.Gravity filling method.
2.Filling valves are made of SUS304L (SUS316L avaibable)
3.Filling valves are reasonably structured with accurate filling.
4.Bottles go up and down in the function of cam through elevator, to process filling with contact to bottle-mouth.
5.Level of cylinder is controlled with float-ball.
6.Adopts the negative pressure filling which we specifically design for CSD filling, it ensures minimal loss of CO2 from the product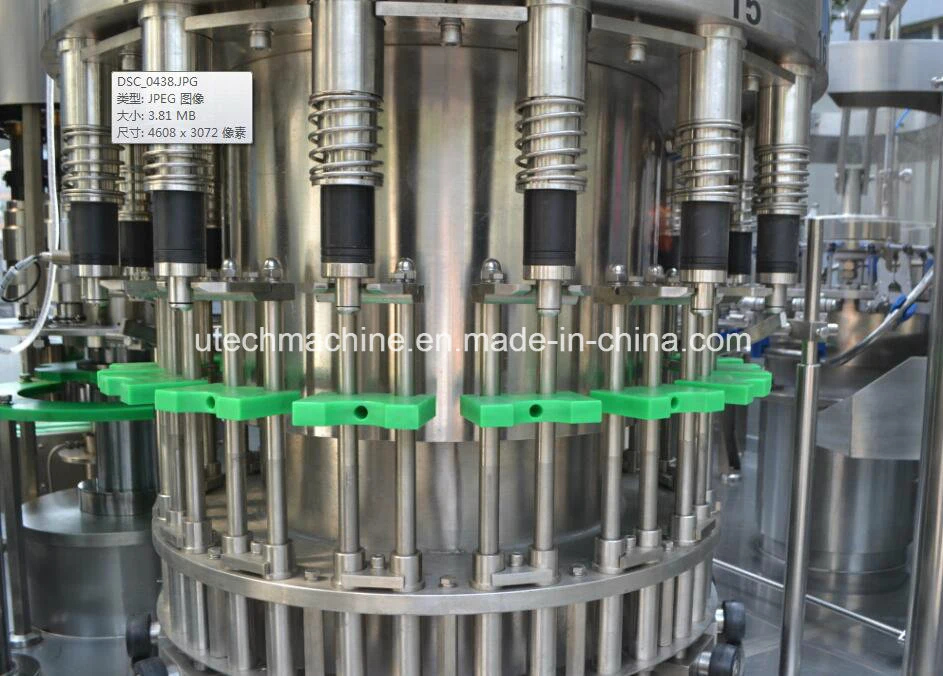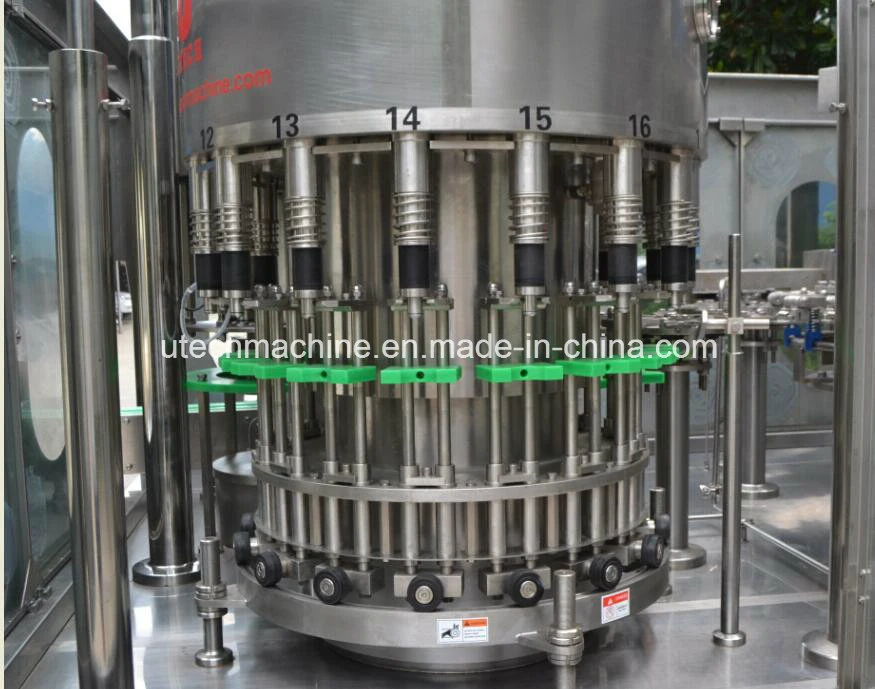 Bottle Capper:
U Tech Automatic Bottle Filling Machine
1.extruding wheel (main part to control the stability when sealing), uses the technology of Arol. Kinematical and kinetic design of the wheel by experts improves the stability and credibility of the equipment.
2.Sealing faucet (main part to control the credibility of sealing), is improved by experts with the design of alnico. Besides the magnetic contortion variation device, there is variation dial which makes variation more easily. The benefit of this design is not only it can set the contortion, but also it makes contortion more precise and credible, and reduces inferior.
3.Bottle outfeed bottles starwheel will transfer the bottle into motor bottle conveyor from capping setion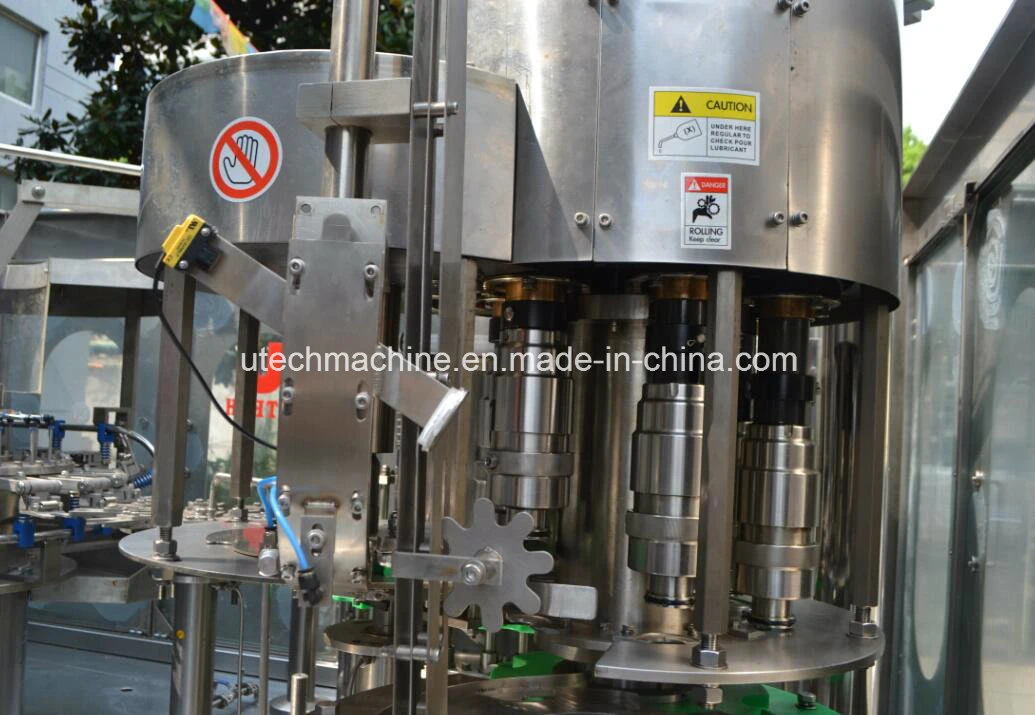 COMPANY INFORMATION:

U Tech Automatic Bottle Filling Machine
Zhangjiagang U Tech Machine Co., Ltd. is a manufacturer of filling machine and packing with well-equipped testing facilities and strong technical force. With a wide range, good quality, reasonable prices and stylish designs, our products are extensively used in beverage and other packing equipment.
Our products include: liquid filling machines (water, fruit juice/tea, carbonated drink, oil, alcohol, plant protein drink, etc.), barreled filling line (3-5 gallon) water treatment machines, labeling & packing machines, semi-automatic /full automatic PET bottle blowing machines, and injection molding machines, extrusion blow molding machines (PP/PE/PVC/PETG/PC...) and accessories for automation: leak tester machines, bottle bag packing machines, conveyor belts.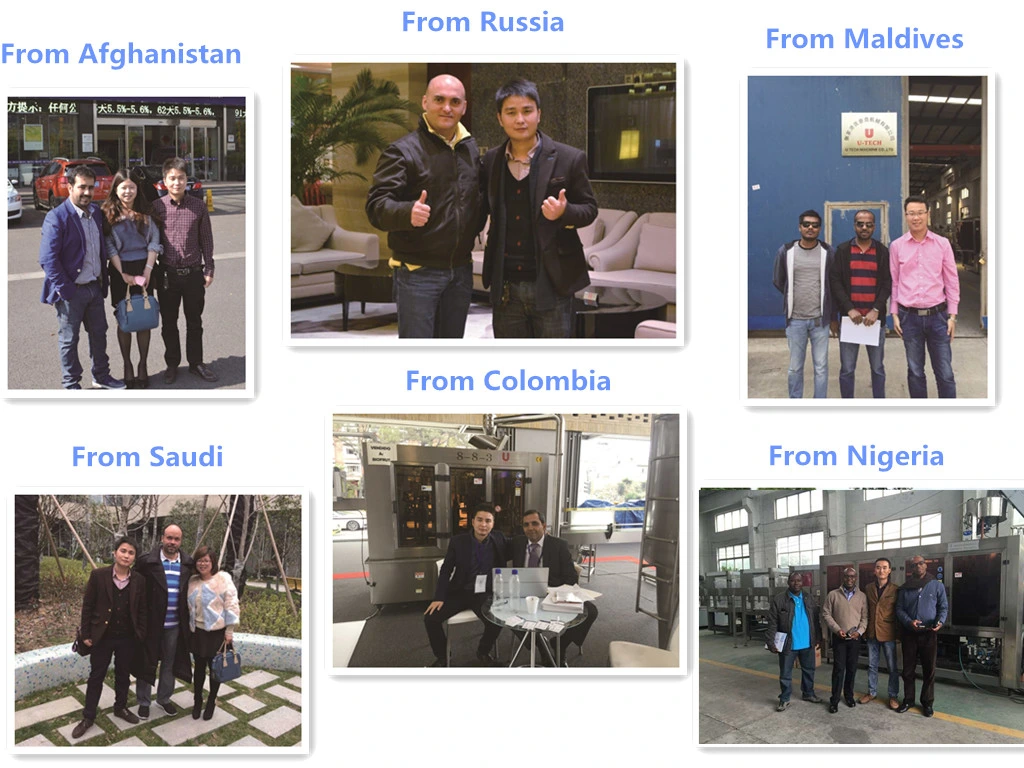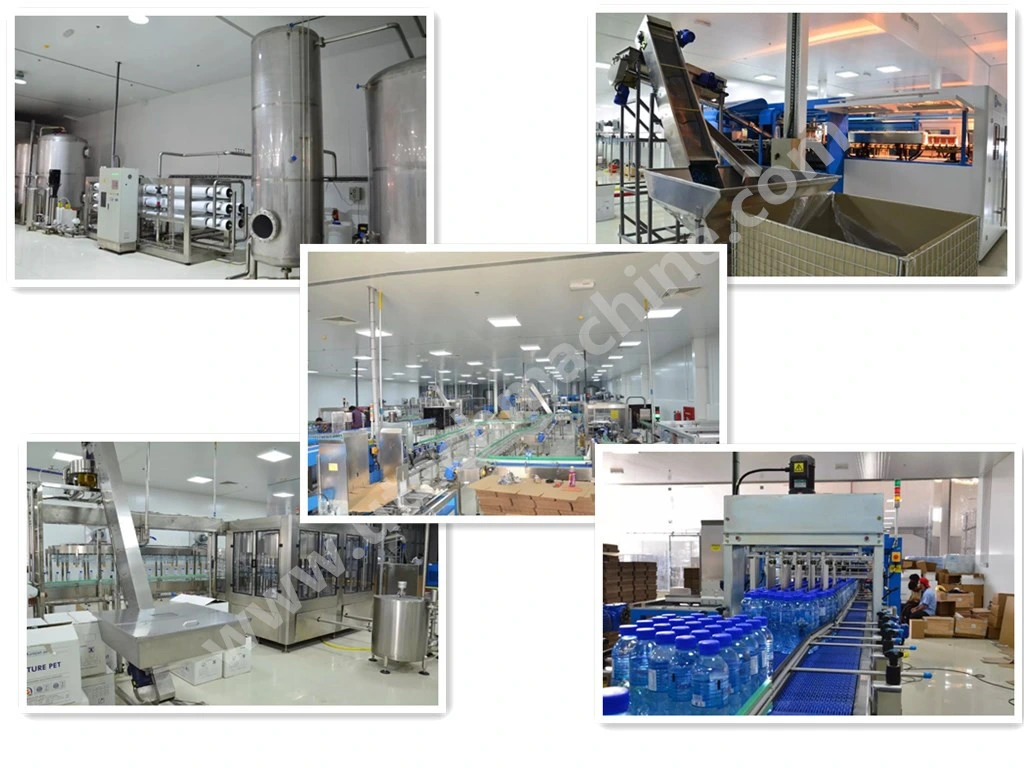 OUR SERVICE:

U Tech Automatic Bottle Filling Machine
What service U Tech Machine Co.,Ltd can offer you ?
1.Well-trained & experienced staff are to answer all your inquiries in English and Chinese
2.24 hours for engineer response (all services part 5days in customer hand by Intl' courier).
3. 2 Years guarantee
4.Your business relationship with us will be confidential to any third party.
5. Good after-sle service offered, please get back to us if you got any questions.



FAQ:

U Tech Automatic Bottle Filling Machine
Q1:Are you a trading company or a manufactory?
A1:We are a manufactory,can give u best service .
Q2:What's your guarantee or the warranty of the quality if we buy your machines?
A2:We offer you high quality machines with 2 years guarantee . we will give u spare part free in 2 years
Q3:When can I get my machine after I paid?
A3:We will deliver the machines on time as the date we agreed both side.
Q4:How can I install my machine when it arrives?
A4:We will send our engineer to your side as soon as you get all your machines ready , for testing and teaching your technicians how to run the machines.
Q5:How about the spare parts?
A5:After we deal down all the things , we will offer you a spare parts list for your reference.
Any more questions, please feel free to contact us!
Welcome To Visit Zhangjiagang U Tech Machine Co.,Ltd!